Welcome to the HM ScrapShop Blog Train!
Some of HM's ScrapShop wonderful designers made a beautiful La Tulipe Collab kit for you to enjoy FREE.
Grab it and make sure to make a stop at all participants blog in order to get the full collab!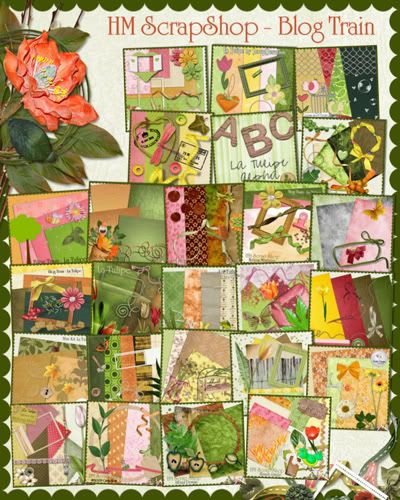 Follow the links below to collect your Freebies:
Albina Design - http://albina-s-secrets.blogspot.com/
Ariana's Kreations - http://arianaskreations.blogspot.com/
Carla Holf - http://carlaholf.com/blog/
Carola Mondini - http://www.carolamondini.com/blog/
ChaDesignz - http://chadesignz.blogspot.com/
Chelly Oliveira - http://chelsant.blogspot.com/
Cintia Designs - http://www.cintiadesigns.blogspot.com/
Debora Pas - http://www.deborapas.com.br/
Elyane Araujo - http://elyanearaujo.blogspot.com/
Fa Maura - http://www.famaura.com/diary/
Glayce Cavalcante - http://glaycecavalcante.blogspot.com
Helena Monteiro - http://helenamonteirodesigns.com
HM ScrapShop - http://hmscrapshop.com/shop
Ju Oliveira - http://scrapsbyjuoliveira.blogspot.com/
Julia Fialho - http://www.juliafialho.com/blog/
Keka Designs - http://amigasescraps.com/blog/
Lanna - http://www.scrap-world.blogspot.com/
Lilian Wing - http://paperscrapwings.blogspot.com
Manrotka - http://mamrotka.blogspot.com/
Mari Liess - http://mariliess.com/
Mariana Barros - http://designsdamari.blogspot.com/
Paula Kesselring Designs - http://paulakesselring.blogspot.com/
ScrapDesafios - http://scrapdesafios.blogspot.com/
Silke Papierstudio - http://papierstudio.blogspot.com
Tania Ramalho - http://colorindo-a-vida.blogspot.com/
Here is my contribution to the collab:
Do not forget to leave me a message, I love ...
AQUI